Streamline video meeting and messaging from any device
Unparalleled availability
Quick adoption with meeting capabilities makes it easy to launch, join, and collaborate on any device.
HD experience / portable sharing
High reliability, excellent security and stability, easy to use, one-click sharing, and smooth meeting communication experience.
More portable participation in meetings
A variety of networks and devices can be connected to the video meeting system anytime, anywhere, and can easily join the meeting anytime and anywhere.
No special network / rich application scenarios required
No special person required, multiple application modes, 1080p ~ 2K, 4K high-fidelity audio and video transmission.
HD smooth audio and video
1080P-2K, 4K high-definition video images, multiple audio technologies to achieve lip sync High-fidelity audio transmission, making you immersive like a face-to-face meeting
Online meeting
HD video and high quality audio. Support tens of thousands of video participants online at the same time. Screen sharing and full collaboration. Intelligent voice translation can be saved.
Fast data sharing
Share screens and documents with one click. Share full or partial screens clearly and smoothly. Participants can view your computer desktop or mobile screen and your video in real time. Perfect screen sharing makes your webinar presentation more effective.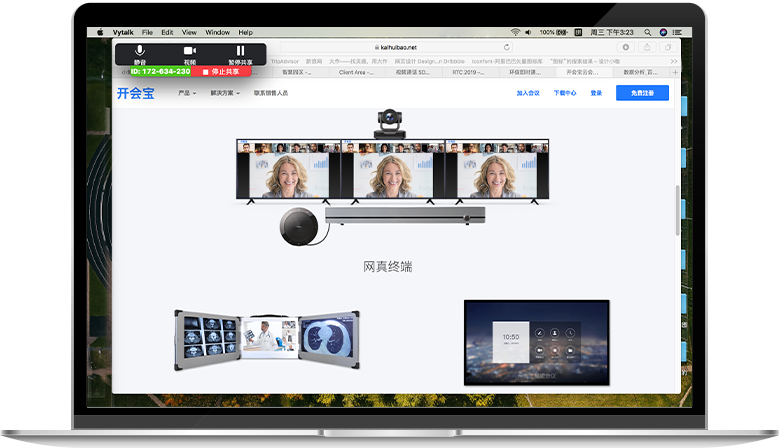 Whiteboard
Illustrate your ideas with drawings and text, and collaborate with your attendees through drawings. Online whiteboards can help you present your webinar more effectively and increase your webinar interactivity and audience engagement.
Web and mobile applications
Run your video meeting on any device, anywhere. Hosts can easily schedule and manage their meetings through a web browser. Participants can join a video meeting and have a text chat directly through a web browser without downloading software. In addition to Windows, PC, and Mac, video conferencing is compatible with Android and iOS mobile devices, and you can host or join a video meeting anytime, anywhere.